Angel Liquidity Vaults - A Uniswap v3 liquidity management protocol allowing single-sided asset deposits.
Earn Better Rewards From Uniswap v3 Without Managing Your Pool Position
A vault created for projects to build a treasury of project-owned liquidity and DeFi users to earn fees without managing their pool positions.
Ask Questions About Angel Liquidity Vaults In The ICHI Discord Community
How To Deposit To The oneICHI Angel Vault
Deposit To An Angel Vault To Earn Higher Trading Fees
Mint $oneICHI
(An Asset Worth $1)
...Or Swap For $oneICHI (An Asset Worth $1)
Mint $oneICHI using a ratio of $ICHI and $USDC.
Swap directly for $oneICHI on the Uniswap platform.
Deposit $oneICHI into the oneICHI/ICHI Angel Vault to receive LP Tokens.
Stake the LP tokens into ICHI's liquidity farming contract.
Why Deposit To An Angel Vault?
Better Trading Fees
Angel Vaults utilize the new Uniswap v3 protocol which allows for concentrated liquidity and higher trading fees for liquidity providers (LP).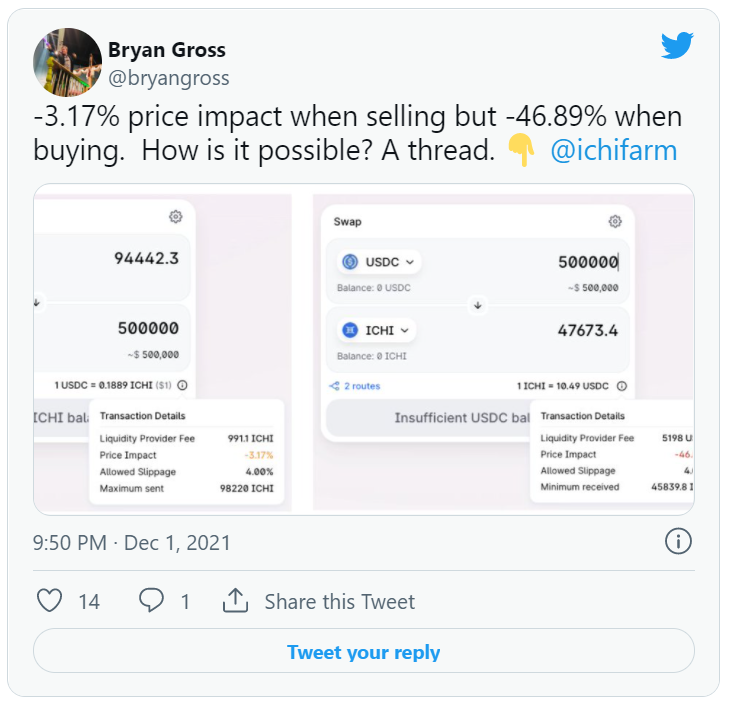 Pool Position Management
Angel Vaults manage users' pool position in Uniswap v3 to ensure they remain within the custom trading range. This gives LP providers exponentially more trading fees for each dollar deposited.

Project And Community Benefits
Projects and communities that create their own Angel Vaults benefit from features like Buy Liquidity, Deflationary Liquidity Rewards, and Protocol Owned Liquidity.
How Angel Vaults Improve Your Community

2. Deflationary Liquidity Rewards
By creating branded dollars through ICHI and then establishing an Angel Vault with that branded dollar, crypto projects can offset the cost of liquidity rewards.
This is due to the upward price pressure created from locking the community's scarce token when minting its branded dollar and then using it as the single asset deposited in the Angel Vault.
By providing single asset liquidity underneath the price of a participating project's token, you increase the price of that token.
3. Protocol Owned Liquidity (POL)
Depositing a portion of the assets backing that project's branded dollar into the Angel Vault creates sustainable, long-lasting liquidity.
Angel Liquidity Vaults Case Study
The following is a case study from the first Angel Liquidity Vault (a $oneUNI and $ICHI Vault).
As of December 1st, the ROI is 100.37% and the total amount of $oneUNI deposited to the vault is $2,359,282 as shown in the screenshot.
Because $oneUNI is deposited to this vault, ICHI now has ensured there is liquidity on the buy-side of its' asset.
You can see all the assets supporting the current $ICHI price in the screenshot below or visit this link and click "liquidity."
With this new buy-side liquidity supporting $ICHI, there is now a significant difference in price impact when users buy and sell $ICHI for $oneUNI.
As of December 1st, if a user buys 500k worth of ICHI, the price impact is -58.19%. But if a user sells 500k worth of ICHI, the price impact is only -2.75%.

Deposit To An Angel Vault Today!